Welcome Reception
Venue: Maritime Museum (Museu de Marinha) (map),  Praça do Império, 1400-206 Lisboa, Portugal
Schedule: 13th April, 19h00
How to reach: Transfer shuttle bus service from the conference venue to the Maritime Museum, starting at 18h15. Shuttle bus service from the Maritime Museum to the conference venue and "Cais do Sodré" underground station, starting at 20h15. The museum is also reachable by foot, tram or bus, as illustrated at the end of the page.
Registration: This event is free of charge, but it is obligatory to register for it.
We would like to invite you to join the welcome reception at the Maritime Museum. 
Visit the museum and mingle with your conference colleagues and exhibitors in an informal atmosphere, enjoying drinks and snacks from the buffet and listen to traditional Portuguese folk music.
The Maritime Museum (Museu de Marinha) is installed in the west wing of the Jerónimos Monastery. The museum celebrates the XV and XVI centuries' Portuguese domination of the seas and the discovery of new worlds.
The exhibits include historical paintings, archaeological items and many scale models of ships used in Portugal since the 15th century. Highlights of the museum are a couple of royal ceremonial barges from the 18th century and the first seaplane that crossed the South Atlantic, from Lisboa to Rio de Janeiro, in 1922.

The entertainment will be performed by the Instituto Superior Técnico (IST) students´ tuna and a folk group of "Cante Alentejano".
The IST tuna is a group of engineering students in their traditional black gowns who play traditional musical instruments and sing serenades in a very lively atmosphere.
"Cante Alentejano" is a genre of traditional two-part singing performed by amateur choral groups in southern Portugal, characterized by distinctive melodies, lyrics and vocal styles, and performed without instrumentation. This very special folk polyphonic singing has been chosen by UNESCO as "Intangible Cultural Heritage". Visit the UNESCO link for more information.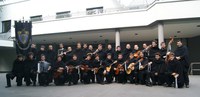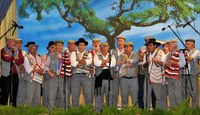 Reaching the Maritime Museum by foot, tram or bus


Reaching the Maritime Museum by foot, a beautiful walk along the river and monumental area of Belém.


Reaching the Maritime Museum by bus (751, 727, 714, exit in Belém-Jerónimos) or 
tram (15E, exit in Centro Cultural de Belém), from the Congress Centre.