Venue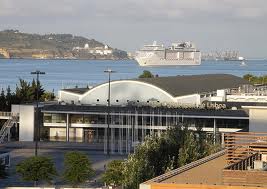 Lisbon, the westernmost city in continental Europe, is quite an attractive place to visit, and you can easily extend your stay for a few days, so that you can enjoy the city and its surroundings, as well as its gastronomy.  The weather is quite mild, and you'll experience a pleasant Spring in the region. The Lisbon Congress Centre, "Centro de Congressos de Lisboa" (address: Praça Indústrias, 1300-307 Lisboa), is located along the river, in an easily accessible by bus, tram and taxi and about 15 minutes from the airport area. 
Floor Plans
Parking at the Venue
The congress centre has two large paid parking lots. One is just in front of the main entrance (one open air at ground level and one underground) and the other is at the western end (two underground floors). The parking lots are open from 8AM to 8PM.
Tickets are obtained when entering the parking lots and the payment is made at the cashier before leaving.
The cost is about 1.5 Euro per hour. There is also a daily rate of 12.8 Euro. Participants that want to use the daily rate must change their tickets at the reception of the congress centre.
More information available here.
Surroundings
Right in front of the Lisbon Conference Centre, take the opportunity to have a wander along the Tagus river and explore the variety of available restaurants. It is also very near the historical area of Belém, with the most visited monuments of the city (Jeronimos Monastery, Belem Tower, Maritime Museum, Coach Museum).


Walk along the river until the monumental area of Belém.

Restaurants near the Congress Centre.