Transportation
Below you can find a clickable map where you can get directions to arrive to the Centro de Congressos de Lisboa (Lisbon Congress Centre, Praça Indústrias, 1300-307 Lisboa) by public transportation or by car, from a place you may specify.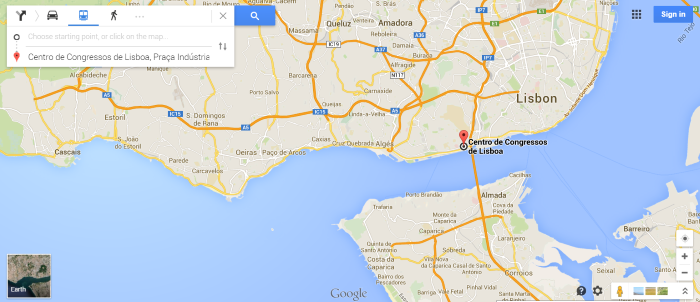 Arriving to Lisbon Congress Centre from Lisbon Airport
Lisbon's airport is located about 10 km northeast of Lisbon Congress Centre and it is served by different transportation options connecting to other city locations:
Taxi
There are two taxi stands within the perimeter of the airport's main terminal: one is located at the arrivals floor and the other at the departures floor.
All taxis in Lisbon are metered and the fares are the same, regardless of the taxi company. The cost of travelling by taxi is given by a minimum fare cost plus a variable cost that depends on travelling distance, waiting time and usage of the baggage boot.
Estimated travel cost by taxi from the airport to the Lisbon Congress Centre is less than 20 €, assuming daytime travel under regular traffic conditions and baggage boot used.
It is also possible to purchase a Taxi voucher at the Lisbon Tourism counters located in the airport's arrivals public area.
The colour of most taxis in Lisbon is beige; others are black and green. If the customer is pleased with the service, a tip is usually given to the driver.
Regular bus lines
The bus company of Lisbon is Carris. There are some regular bus lines serving the airport: 705, 722, 744 and 783. However, none of these buses go directly to Lisbon Congress Centre and change must be made at the city centre as the whole trip may take too much time.
The Congress Centre can be reached by bus or tramway from the city centre (typically from Cais Sodré) to the following bus/tram stops located nearby:
Bus stop R. Junqueira (Centro de congressos) – 15E (tram), 714, 727, 732, 751, 756
Bus stop Hospital Egas Moniz / Av. Índia – 728

 
Aerobus
This service provides regular trips between the airport and the city center. The Aerobus service starts at 7:45 and ends at 23:20. Aerobuses depart every 20 minutes and are faster than regular buses, since they have fewer stops.
The ticket may be purchased on-board or at the Lisbon Tourism counters located in the airport arrivals public area:
Single ticket price: €3.50 (valid for 24h – unlimited trips on the Aerobus network)
Two-way ticket price: €5.50 (each obliteration is valid for 24 hours, with unlimited trips)
More information at the Yellow Bus Tours website: http://www.yellowbustours.com/en/cities/lisbon/airport-transport/
Subway
Lisbon's subway Metro is a fast underground travelling option between several city locations. The airport is served by the terminal station of Metro's red line (station Aeroporto). However, Lisbon Congress Centre area are not served by Metro. Go until Cais Sodré where several connections are available. 
Tickets are purchased in automatic vending machines located in Metro stations:
Single ticket price: €1.40 (valid for one hour after obliteration, on Metro and Carris buses)
One day ticket price: €6.00 (valid for 24 hours after the first obliteration, on Metro and Carris buses)

 
Note: Buying tickets for the first time requires the acquisition of an electronic card, which costs €0.50.
More information at the Metro website: http://www.metrolisboa.pt/eng/